Saturday night was Mediaeval Baebes night, at St Pancreas Church.
Now, I don't want to go all Indie on you, but I liked Mediaeval Baebes when they were Miranda Sex Garden. Admittedly, as an impressionable youth reading about the trio singing madrigals in NME and Melody Maker, my eye was probably attracted by the name. How could something that involved Miranda, sex and indeed a garden be anything but good? I saw the band post-madrigals era, when they were playing weird, experimental stuff. Miranda Sex Garden would much later describe their music as a 'seductive garden of earthly delights, full of colour and chaos'. The band played Moles circa their Susperia album, in Bath, when I was at University in the early 90s. I was drunk, which perhaps added to the effect, but I thought they were amazing. I bought the T-shirt, which remains my favourite T-shirt to this day, though nearly 20 years later it has seen better days. Haven't we all?

Mediaeval Baebes have always been a much more commercial proposition than Miranda Sex Garden. I can understand the reasoning behind the change of direction, but I miss those days of earthly delights. I should have checked when the band were on, which turned out to be the slightly curious choice of 7.45pm. This was the time I arrived. This was embarrassing, because as I opened the doors of the church I was faced with the backs of the Mediaeval Baebes. They had congregated at the back of the church, to walk down the middle to get to the stage. Had I thought more quickly, I might have realised this was my chance to join the band. Maybe, they needed a leggy blond? Maybe, they would be too polite to say anything until the interval? Maybe each member would presume that I had been invited by another. Actually, what happened was, I shut the door quickly. Thereby, shutting the door on a whole life I could have lived.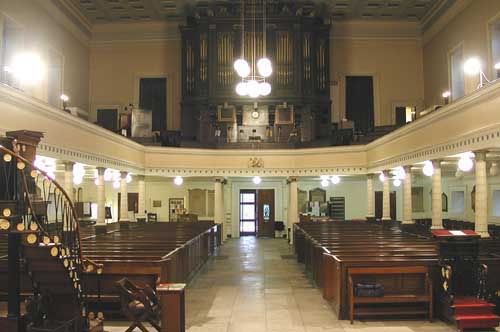 Seeing Mediaeval Baebes play in this venue is a sophisticated experience. There was mulled wine, even if there were no toilets. We got to sit down, even if the pews were rather uncomfortable. (I believe that is the point - Religious Ed). There was even an interval, in which I was able to pay my respects to

chimera_s
, who regaled us with tales of his new found interest in sport. Our conversation did have me asking myself,
Should I go and see The Mission's 25th anniversary show? I have a strict policy of 'never going back' when it comes to ex-girlfriends and jobs, I'm wondering if this policy should be extended to The Mission?
I've never found myself fond of the interval before, but I found it easier to enjoy the second half after having a break. Maybe I just liked the songs more. There were hints of the old Miranda Sex Garden magic, with songs that sounded more epic, which were more likely to transport this writer to a different time and place. It was weird being in a church. When I was a church-goer as a child, I often entered an altered state of consciousness through sheer boredom. (I believe that is the point - Religious Ed). Anyway, I felt I tapped a little into that ritual, though I was anything but bored.
It turns out there was a much easier way to join Mediaeval Baebes, albeit on a temporary basis. I could have signed up for a singing workshop, which would have enabled me to join the band on stage for the finale. I thought this was rather sweet. I'd much rather we had this than The X-Factor. The gig finished by 10pm, so there were plenty of time for socialising before I had to get the last train home. The band were even signing copies of their new CD, though I declined the opportunity to tell them I liked them before they got popular...